The SEO tool you're using can make or break your SEO campaign.
With the right tool, you can easily discover keywords worth pursuing, uncover and learn from you competitors' marketing strategies, and even improve your webpages' capability to rank in the search engine results pages (SERPs), and many more.
However, with all the SEO tools available online, it can be challenging to figure out which tool is ideal for your business.
That is why, in this Moz vs. SEMrush vs. Ubersuggest guide, we compare what each platform has to offer.
We will cover the unique features each tool possesses, the value they bring to their users, and their pricing packages so you know which tool is ideal for you.
Moz vs SEMrush vs Ubersuggest: What are their main features?
Let's take a look at the unique features each SEO tool offers.
Moz
Moz is a premium SEO software that helps improve the visibility of websites in the search engines. Its key features include:
Link Explorer
Link Explorer is essentially the same as its predecessor Moz's Open Site Explorer.
It shows a website's link profile, which includes the site's domain authority, number of linking domains, inbound links, ranking keywords, and more information that's available for download.
Here's a free sample from their page.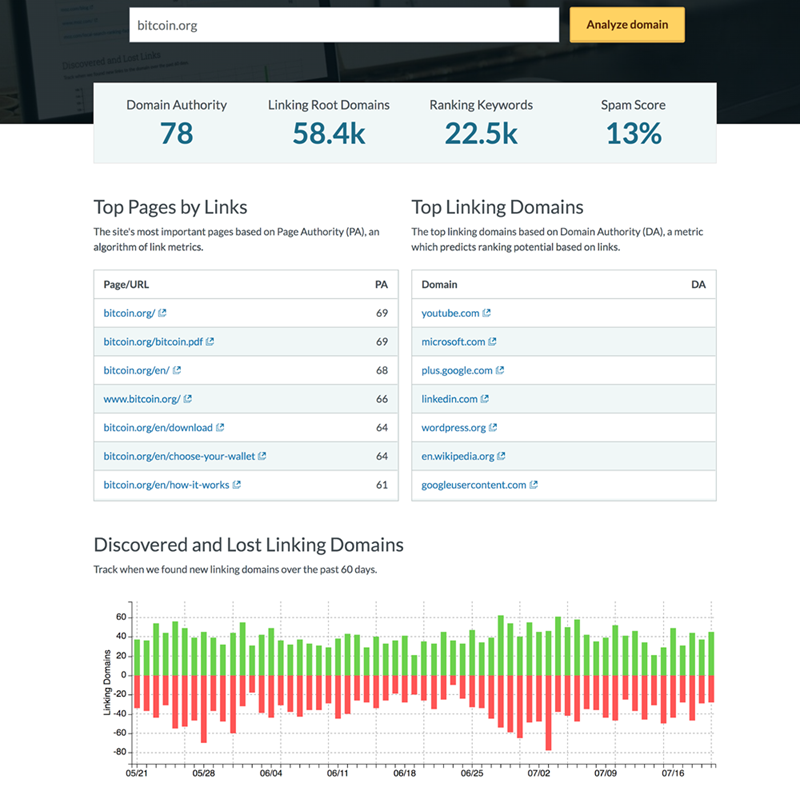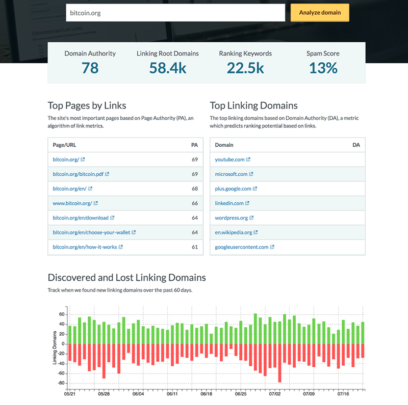 Keyword Explorer
The keyword explorer tool shows accurate search volume numbers, it generates new keyword ideas, and provides useful metrics like organic CTR.
Rank Tracker
This feature shows your overall search visibility and the number of your tracked keywords that have ranked up or down. This feature only updates once per week.
SEMrush
SEMrush is an SEO tool specializing in keyword research, competitor analysis, and ad campaign optimization. Its key features include:
Organic Research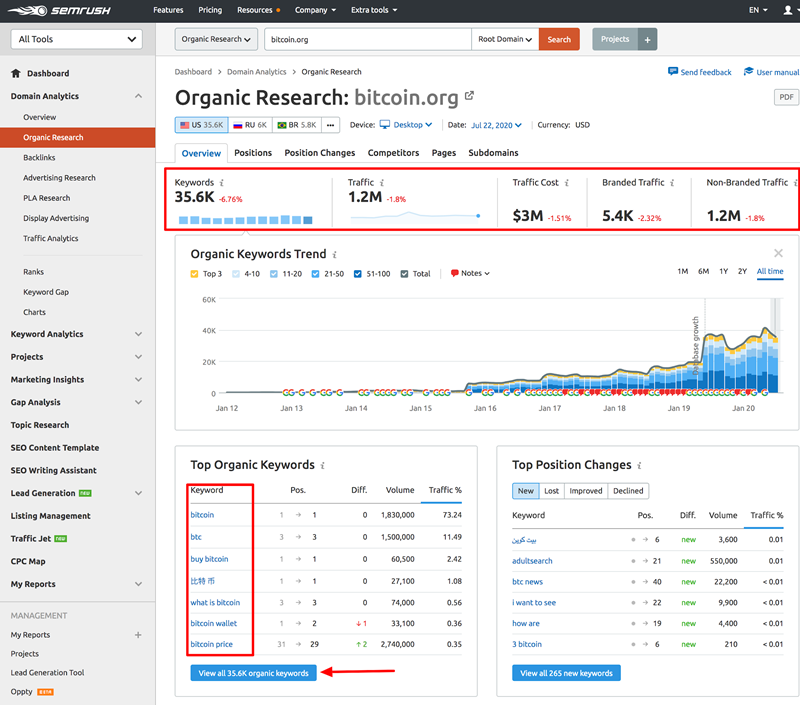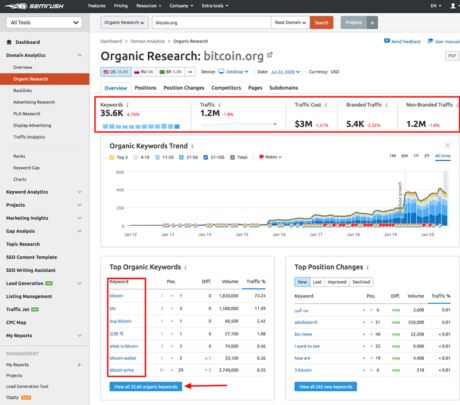 This feature popularized SEMrush. Organic Research provides a regularly-updated list of ranking keywords for a website, estimated monthly traffic, and organic traffic cost.
According to SEMrush: As of January 8, 2021 they have 6M users, 20B keywords, 142 geo databases and 816M domains.
That is huge…!
Backlinks
SEMrush offers a massive link index and enables you to find new pages and backlinks quickly.
It also includes other features such as the 'Authority Score' (domain authority), anchor text breakdown, and the number of links that site accumulated over time, among many others.
Their backlinks database has grown significantly and now contains 37.2T backlinks, 1.5B referring domains, 17.3B URLs crawled per day.
Advertising Research
SEMrush also focuses on PPC and offers PPC competitive analysis features.
Advertising Research shows what ads your competitors are running, how much traffic their ads receive, and how much your competitors are spending on ads.
Ubersuggest
Ubersuggest is a freemium, and all-in-one tool that offers in-depth keyword research, content suggestions, and backlinks. Its key features include:
Keyword Ideas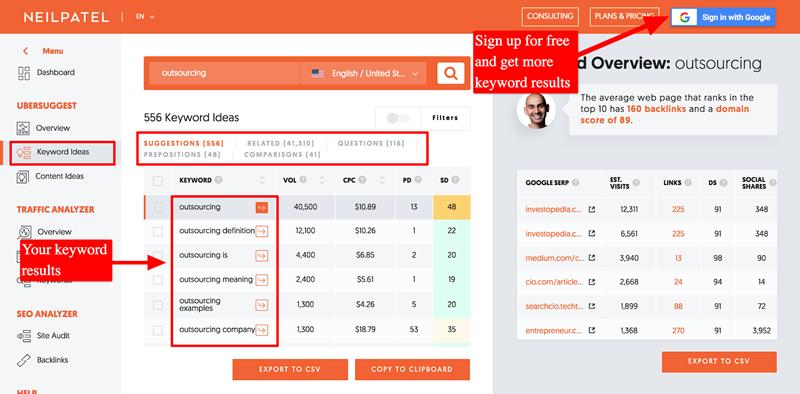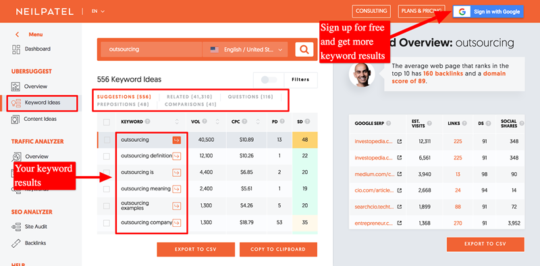 This feature provides various keyword ideas from multiple searches, such as suggestions, related keywords, questions, prepositions, and comparisons.
It also provides information about each keyword's search traffic, CPC, and paid and organic difficulty.
Content Ideas
In this feature, Ubersuggest provides a list of top-performing articles with your target keyword on the title.
You can also see each article's estimated traffic, the number of backlinks, social engagement on Facebook, and Pinterest.
Whether you're looking to create content for your website or for other publications, Ubersuggest's Content Ideas feature can help you come up with enticing content topics that your readers will love.
Backlinks
Ubersuggest offers an easy-to-use backlink generator that you can use easily to collect sites that are linking to your competitors.
The results page shows each site's domain score, page score, link type, anchor text, and the first and last time it was indexed.
This feature is perfect for starting (or scaling) your link building campaigns.
Why use these tools?
Each tool has its unique functions. Consider these points when choosing your SEO tool.
Moz
Moz provides marketers with a powerful SEO tool that allows you to understand your SEO performance and your competitors'.
Moreover, the platform offers many other features you can use for your marketing campaigns such as its SEO audit feature and Fresh Web Explorer, a real-time brand mention monitoring tool.
Moz is perfect for SEO and content marketers who need various features to create effective SEO and content campaigns.
SEMrush
Overall, SEMrush enables you to understand your brand and content visibility online and help you take action.
Moreover, using all its features allow you to get a better look at your competitor's SEO, content, and PPC campaigns.
SEMrush will provide marketers or businesses the direction they need with their SEO, PPC, keyword research, marketing insights, and content marketing.
Ubersuggest
Ubersuggest is perfect for individuals and enterprises looking for an all-in-one SEO tool that's mostly free, yet provides loads of crucial data to come up with a winning SEO campaign.
The platform might have fewer features compared to Moz and SEMrush, but it provides all the essential features you need to develop effective SEO campaigns.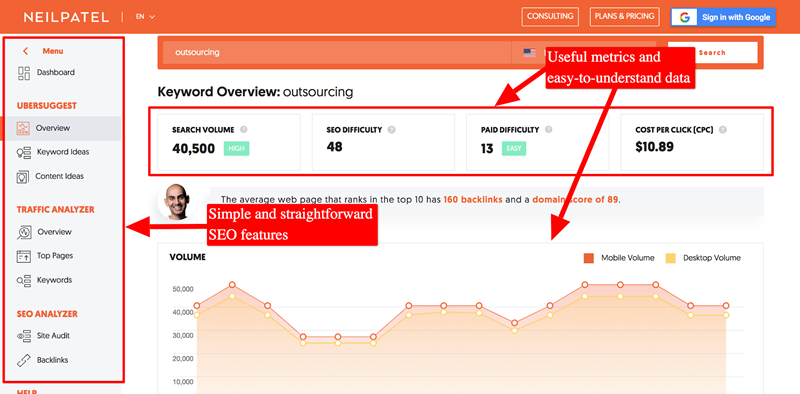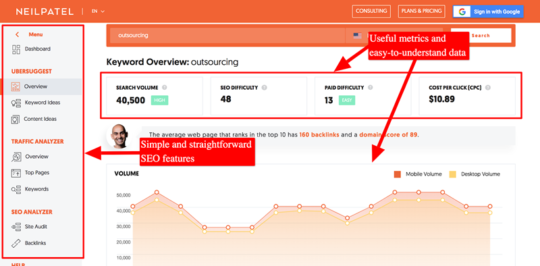 The tool has a user-friendly interface that even beginners can navigate through the platform and understand the data.
It's a no-fluff SEO tool that gets the job done hands down.
How much does it cost?
Below are the pricing packages of each SEO tool.
Moz
Moz has four plans available with its basic plan starting at $99 per month.
The most popular plan costs $149 per month and provides enough limits and full access to the keyword research tools.
Meanwhile, its premium plan costs $599 per month and is best suited for large SEO agencies and marketing teams.
All its plans include one-on-one on-boarding and 24-hour online support.
SEMrush
SEMrush offers three available plans for professionals and businesses.
The cheapest plan starts at $99.95 per month and is suitable for those with a limited budget. However, this plan has limitations, such as having no access to historical data and product listing ads.
Meanwhile, its most expensive plan is at $399.95 per month and is perfect for large-scale projects and businesses. This plan has complete access to the tool.
Ubersuggest
Ubersuggest can be fully accessed and used for free on their website with a daily limit of queries.
However, the tool also offers three monthly paid plans for individuals or businesses who need unlimited access and create scalable SEO campaigns.
You can get the lowest plan for $29 per month and the highest plan for $99 per month. Ubersuggest offers a more affordable price compared to other tools.
Regardless, Ubersuggest is freely accessible just by signing up.
Which tool should you use?
All three platforms provide insightful keyword research. Each tool is capable of generating lists of keywords with useful metrics.
In terms of the number of available features, Moz and SEMrush comes right on top. The downside is, a lot of their features aren't really used. Most marketers and business owners only ever use a handful of their features so both tools can be quite overwhelming. What's more, both tools are quite expensive.
Meanwhile, despite having fewer features, Ubersuggest offers the most crucial functionalities that marketers and business owners need to come up with a winning SEO campaign. It's a no-fluff SEO tool loved by its users because it's user-friendly, packed with important functionalities only, and most if it's free to use.
Now that you have a better view of what each tool has to offer, consider the points we covered in this Moz vs. SEMrush vs. Ubersuggest guide when choosing your SEO tool.